EARTHCORPS.ORG  |   VOLUNTEER CALENDAR   |   HOST AN INTERNATIONAL   |   HIRE US  |   
Show the Earth some Love this April!
Earth Day is coming up on April 22nd, but we're showing the Earth love all month long! EarthCorps has Earth Month events in Kirkland, Federal Way, Mercer Island, Everett, Mukilteo, Shoreline, and of course Seattle! Invite your friends, family, and coworkers to volunteer with you.
April 1 – Brooklake Blueberry Farm in Federal Way
April 1 –  Herring's House along the Duwamish
April 8 –  Longfellow Creek in West Seattle
April 8 – Lake Washington Blvd in South Seattle
April 8 – Island Crest Park on Mercer Island
April 15 – Magnuson Park – in Seattle
April 15 – Pioneer Park on Mercer Island
April 22 – Duwamish Alive in West Seattle
April 22 – Duwamish Substation in South Seattle
April 29 – Union Slough – in Everett
April 29 – Camp Long in West Seattle
See the whole list on our
new Volunteer Calendar.
Duwamish Alive Earth Day Events! – April 22, 2017
It's a citywide event! On April 22, nearly one thousand volunteers will work with a dozen organizations to restore the Duwamish River. As part of the Duwamish Alive Coalition, EarthCorps supports the vision of creating a river for all, and recognizes that we need to work together to save Seattle's only river.
EarthCorps is hosting two Duwamish Alive volunteer events that day. One in West Seattle in the West Duwamish Greenbelt, and another along the river at the Duwamish Substation.
Sign up for the events on our Volunteer Calendar.
You give because you care
EarthCorps envisions a world where people and nature thrive together. Your gifts of volunteering and financial support make this possible. By donating to EarthCorps, you are investing in a healthy and sustainable Puget Sound and environmental leaders who make change in communities around the world.
Consider making a donation online today.
---
From the Blog: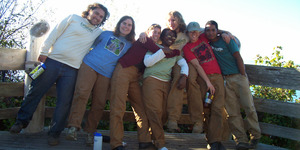 The Invaluable Lessons of AmeriCorps Service
---
Thanks for supporting and engaging volunteers: